Sunday, August 20th, 2006
I'm in Westcliffe now – soggy but in one piece (and so is the car). The weather alternated from beautiful to horrific, sometimes within a half-hour period. Look for an update later tonight.
Update: Ok, both the car and I are somewhat drier. I left Taos this morning, where the car got a lot of interest, even stopping traffic on some streets so people could have a conversation with me about the Atom. From Taos to Angel Fire, the roads were very good – nice and twisty, with a number of 15MPH (posted) switchbacks.
From Angel Fire to Mora, things got interesting – apparently I had moved the route selection slider on my map software from "highways" all the way to "not really a road". The road doesn't even seem to have a name, just being referred to as "Local road" on the map software. I probably should have given up and chosen an alternate route when the sign that said "Unpaved road next 12 miles – may be impassable" came up, but being your intrepid correspondent, I gave the Atom a workout on it. The car performed wonderfully, on a road far worse than any of you would ever want to take. Here's a picture from near the summit, where the road is in reasonably good shape: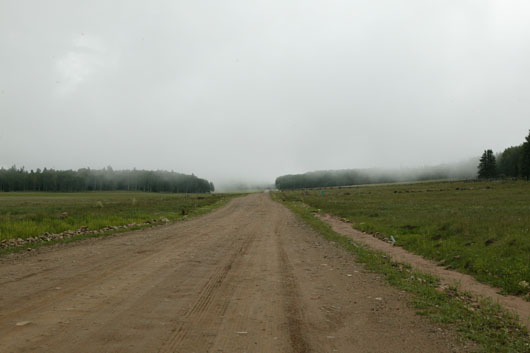 After getting through that, the rain increased to a deluge. Fortunately, by the time I got to I-25, the sun decided to peek out for a bit and I got dried off somewhat. This pattern of soak / dry repeated for the next 150 or so miles. When I arrived at Westcliffe, it was pouring again, so I landed at the first motel I could find. Of course, after I rushed to unload the car and get the car cover on it, the sun started to come out again: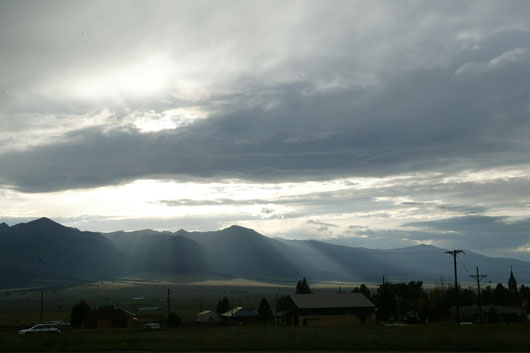 Since the weather had improved, I gave a pair of prospective Atom owners rides to check out the car, and spent an hour or so talking about the Atom and cars in general.